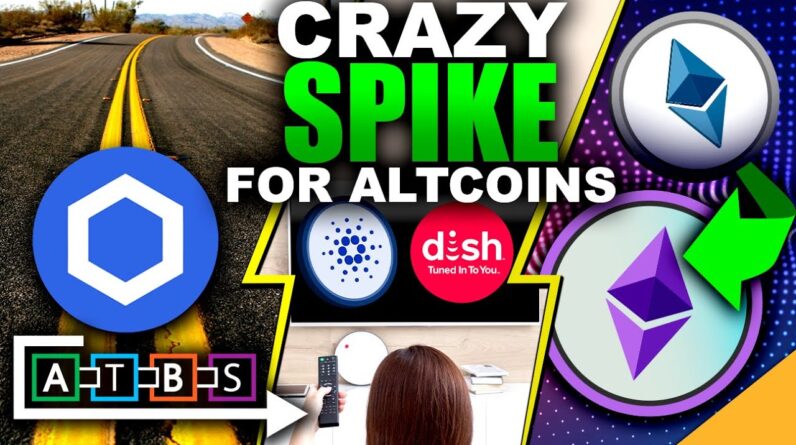 Today we will be discussing Ethereum's Ropsten testnet being successfully being implemented with just a few more months left till the public merge. Next we'll look at Chainlink revealing LINK 2.0 roadmap that will introduce staking to the protocol, and last we'll talk about Dish Satellite Network launching a loyalty coin system built on the Cardano blockchain.
Around the Blockchain is your favorite Cryptocurrency show discussing Bitcoin, Ethereum, Cardano, and the top altcoins. Our four crypto experts include Gareth Soloway, Crypto Taco, Jayson Casper & Andrew Mo. Tune in for their insightful crypto analysis!
Don't forget to check out our guests' socials!
Gareth Soloway:
https://www.youtube.com/channel/UCwTu6kD2igaLMpxswtcdxlg
https://twitter.com/GarethSoloway
Andrew Mo:
https://www.youtube.com/c/AndrewMoMoney/videos
https://twitter.com/andrewmomoney
Jayson Casper:
https://www.youtube.com/c/JaysonCasper
https://twitter.com/jayson_casper
Crypto Taco:
@Crypto_Taco01
Intro music by Gregario Franco. Song – Nacht
https://gregoriofranco.bandcamp.com/
Learn more about crypto ➡️
How to join Cardano (ADA) BitPool ➡️
➡️ MERCHANDISE:
●▬▬▬▬▬▬▬▬▬▬▬▬▬▬▬▬▬▬▬▬▬▬▬▬▬▬▬▬●
Connect with Me & the BitSquad!
Join the BitSquad ➡️
Join BitSquad Traders ➡️
Join Me on Twitter ➡️
Join Me on Instagram ➡️
Join Me on TikTok ➡️
Join Me on Minds ➡️
●▬▬▬▬▬▬▬▬▬▬▬▬▬▬▬▬▬▬▬▬▬▬▬▬▬▬▬▬●
ByBit, Market Cipher, Ledger, TokenMetrics, Crypto.com & more!
Find deals on hardware wallets, trading indicators, exchanges & more.
Find Crypto DEALS ➡️
●▬▬▬▬▬▬▬▬▬▬▬▬▬▬▬▬▬▬▬▬▬▬▬▬▬▬▬▬●
All of our videos are strictly personal opinions. Please make sure to do your own research. Never take one person's opinion for financial guidance. There are multiple strategies and not all strategies fit all people. Our videos ARE NOT financial advice.
#bitcoin #ethereum #crypto #news #nft #economy #money #blockchain #invest #inflation