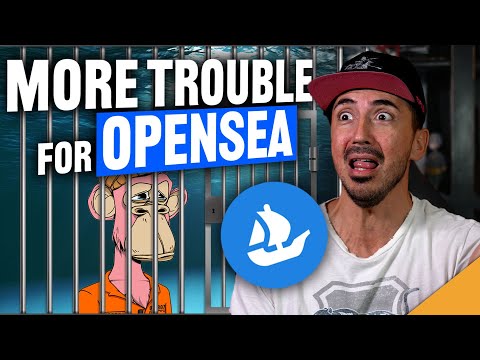 In this NFT update, we aim to bring you the latest and most relevant NFT news today. Bored Ape Yacht Club NFT's delisted on Opensea. Opensea customer emails become compromised, and Kevin Hart dives into metaverse and NFT's!
What We Discuss:
0:00 Intro
0:16 Bored Apes Gone?
1:38 Opensea Security Breach
3:08 Kevin Hart's NFT Drop
Subscribe To NFT Alpha ➡️
Learn more about crypto ➡️
How to join Cardano (ADA) BitPool ➡️
➡️ MERCHANDISE:
●▬▬▬▬▬▬▬▬▬▬▬▬▬▬▬▬▬▬▬▬▬▬▬▬▬▬▬▬●
Connect with Me & the BitSquad!
Join the BitSquad ➡️
Join BitSquad Traders ➡️
Join Me on Twitter ➡️
Join Me on Instagram ➡️
Join Me on TikTok ➡️
Join Me on Minds ➡️
●▬▬▬▬▬▬▬▬▬▬▬▬▬▬▬▬▬▬▬▬▬▬▬▬▬▬▬▬●
ByBit, Market Cipher, Ledger, TokenMetrics, Crypto.com & more!
Find deals on hardware wallets, trading indicators, exchanges & more.
Find Crypto DEALS ➡️
●▬▬▬▬▬▬▬▬▬▬▬▬▬▬▬▬▬▬▬▬▬▬▬▬▬▬▬▬●
All of our videos are strictly personal opinions. Please make sure to do your own research. Never take one person's opinion for financial guidance. There are multiple strategies and not all strategies fit all people. Our videos ARE NOT financial advice.
SOURCES:
https://twitter.com/BoredApeYC/status/1542257147794300930?s=20&t=QXUcqzjPEiyomRAZ7TmVwg
https://nftevening.com/yuga-labs-files-lawsuit-against-ryder-ripps-bored-apes-rrbayc-nft/
https://www.youtube.com/watch?v=TYe2tkXgPqs
https://content.jwplatform.com/previews/Vn72dUG8
https://abcnews.go.com/International/wireStory/european-union-inks-deal-crypto-transfer-tracing-rules-85987157
https://money.usnews.com/investing/news/articles/2022-06-01/opensea-employee-charged-with-insider-trading-in-nfts
https://finance.yahoo.com/news/opensea-user-emails-i-ds-leaked-in-email-vendor-data-breach-225522267.html
https://www.coindesk.com/business/2022/06/30/opensea-reports-email-data-breach/
#NFTs #Crypto #NFTart #NFTnews