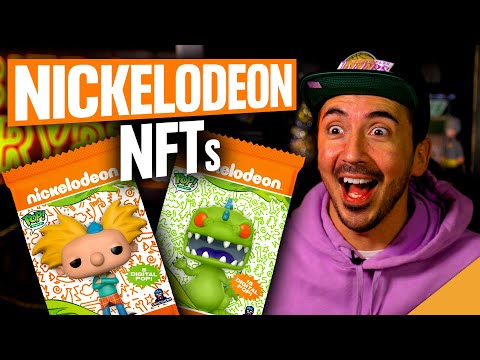 In this NFT update, we aim to bring you the latest and most relevant NFT news today. Nostalgia for the win! Nickelodeon launches their first NFT drop based on 90s Cartoons, Steve Aoki throws cake in the metaverse, and Microsoft's Minecraft says no to NFTs…but will other top gaming platforms follow their lead?
What We Discuss:
0:00 Intro
0:21 Nickelodeon NFT Launch
1:45 Aoki Launches Aokiverse
2:38 Minecraft Says No to NFTs
Subscribe To NFT Alpha ➡️
Top Videos:
📓Crypto 101:
🏘️Housing Crisis:
🌐Internet Is Rotting Away:
💻Cyber Warfare:
🌍World Economic Forum:
Learn more about crypto ➡️
How to join Cardano (ADA) BitPool ➡️
➡️ MERCHANDISE:
●▬▬▬▬▬▬▬▬▬▬▬▬▬▬▬▬▬▬▬▬▬▬▬▬▬▬▬▬●
Connect with Me & the BitSquad!
Join the BitSquad ➡️
Join BitSquad Traders ➡️
Join Me on Twitter ➡️
Join Me on Instagram ➡️
Join Me on TikTok ➡️
Join Me on Minds ➡️
●▬▬▬▬▬▬▬▬▬▬▬▬▬▬▬▬▬▬▬▬▬▬▬▬▬▬▬▬●
ByBit, Market Cipher, Ledger, TokenMetrics, Crypto.com & more!
Find deals on hardware wallets, trading indicators, exchanges & more.
Find Crypto DEALS ➡️
●▬▬▬▬▬▬▬▬▬▬▬▬▬▬▬▬▬▬▬▬▬▬▬▬▬▬▬▬●
All of our videos are strictly personal opinions. Please make sure to do your own research. Never take one person's opinion for financial guidance. There are multiple strategies and not all strategies fit all people. Our videos ARE NOT financial advice.
Sources:
https://www.youtube.com/watch?v=RD7NdEfi_p8
https://twitter.com/nickelodeon_nft/status/1550262190996848642
https://nickelodeon.xyz/marketplace/?series=Rugrats+x+Hey+Arnold%21
https://twitter.com/nickelodeon_nft/status/1549626025134370817
https://blogger.googleusercontent.com/img/b/R29vZ2xl/AVvXsEhHDaF2LD6VJgkId5agNwlfy47uweRt3T5-xXzOnKGxhj0Oo_MnzPzD1StD1h90L31NCKKgsbwKE8tDTsTIVPGKw9zQ5QEfvvOMgt_ju-WZvUy7JBeVMmn9zZ5FkcNzpxw-NsTgOa0hNwhc-OQerhJ8xX30qNiv80HKshfgy-SH6hnv5ELIVA/w640-h312/0_S1HpI03x7jXbJW7S.png
https://twitter.com/nickelodeon_nft/status/1549870673216131073
https://assets.website-files.com/629f51dbc2807bf67cd0b735/62c79327574f004f26c06095_unlock_mashups%402x-p-800.png
https://www.youtube.com/shorts/e7Ff8n2Be6E
https://a0k1verse.xyz/
https://twitter.com/steveaoki/status/1549408733364596738?ref_src=twsrc%5Etfw%7Ctwcamp%5Etweetembed%7Ctwterm%5E1549408733364596738%7Ctwgr%5E%7Ctwcon%5Es1_&ref_url=https%3A%2F%2Fwww.geekmetaverse.com%2Fsteve-aoki-launches-nft-avatars-for-the-sandbox-metaverse%2F
https://www.sandbox.game/en/steve-aoki/
https://www.minecraft.net/en-us/article/minecraft-and-nfts
https://twitter.com/adamamcbride/status/1549905937477128192
https://www.youtube.com/watch?v=B1xpRGk3uME
#NFTs #Crypto #NFTart #NFTnews