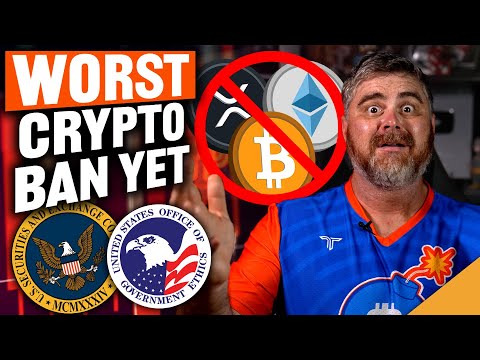 In your nightly crypto news wrap-up, we bring you the top crypto stories. A Californian investor files a class action lawsuit against Solana, The Wall Street Journal puts Gary Gensler on blast for "holding investors hostage" and the U.S Office of Government Ethics doubles down on double standards.
What We Discuss:
0:00 Intro
0:20 Solana Gets Sued
1:39 Market Watch with Frankie Candles
2:50 WSJ Calls Out Gensler
4:16 FED Crypto Ban
Subscribe To Frankie Candles ➡️
Top Videos:
📓Crypto 101:
🏘️Housing Crisis:
🌐Internet Is Rotting Away:
💻Cyber Warfare:
🌍World Economic Forum:
Learn more about crypto ➡️
How to join Cardano (ADA) BitPool ➡️
➡️ MERCHANDISE:
●▬▬▬▬▬▬▬▬▬▬▬▬▬▬▬▬▬▬▬▬▬▬▬▬▬▬▬▬●
Connect with Me & the BitSquad!
Join the BitSquad ➡️
Join BitSquad Traders ➡️
Join Me on Twitter ➡️
Join Me on Instagram ➡️
Join Me on TikTok ➡️
Join Me on Minds ➡️
●▬▬▬▬▬▬▬▬▬▬▬▬▬▬▬▬▬▬▬▬▬▬▬▬▬▬▬▬●
ByBit, Market Cipher, Ledger, TokenMetrics, Crypto.com & more!
Find deals on hardware wallets, trading indicators, exchanges & more.
Find Crypto DEALS ➡️
●▬▬▬▬▬▬▬▬▬▬▬▬▬▬▬▬▬▬▬▬▬▬▬▬▬▬▬▬●
All of our videos are strictly personal opinions. Please make sure to do your own research. Never take one person's opinion for financial guidance. There are multiple strategies and not all strategies fit all people. Our videos ARE NOT financial advice.
Sources:
https://jnews.uk/solana-defi-protocol-crema-loses-8-8m-in-exploit/
https://cryptonews.com/news/new-class-action-lawsuit-targets-solana-in-california.htm
https://storage.courtlistener.com/recap/gov.uscourts.cand.397697/gov.uscourts.cand.397697.1.0.pdf
https://www.wsj.com/articles/gary-genslers-bitcoin-land-grab-sec-hester-peirce-bitwise-grayscale-exchange-traded-products-11657144533
https://www.yahoo.com/video/grayscale-sues-sec-over-spot-052610810.html
https://beincrypto.com/us-bans-crypto-holders-from-working-on-government-policies/
#crypto #cryptonews #solana #solananews