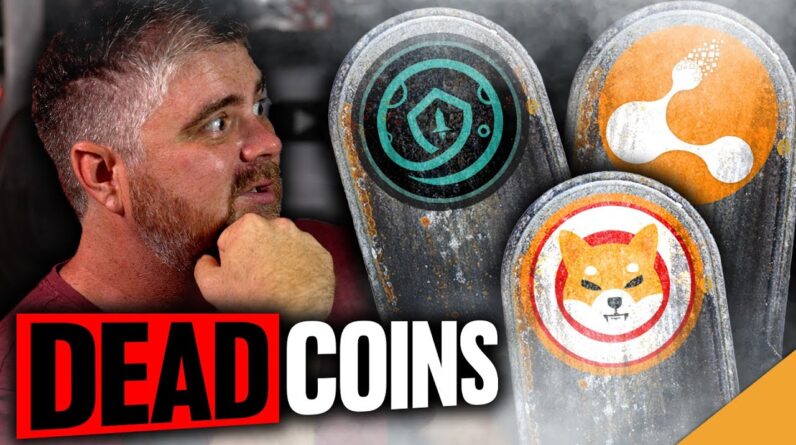 Since the crypto industry began, over 20,000 crypto coins have been created, but many of them are now dead in the water, including many once-prominent tokens. In this video, I'll be going over some of the most notable coins that are now residing in the crypto graveyard, as well as taking a look at what brought them to this state, and how you can avoid losing all your money on a future dead coin.
Top Videos:
📓Crypto 101:
🏘️Housing Crisis:
🌐Internet Is Rotting Away:
💻Cyber Warfare:
🌍World Economic Forum:
Learn more about crypto ➡️
How to join Cardano (ADA) BitPool ➡️
➡️ MERCHANDISE:
●▬▬▬▬▬▬▬▬▬▬▬▬▬▬▬▬▬▬▬▬▬▬▬▬▬▬▬▬●
Connect with Me & the BitSquad!
Join the BitSquad ➡️
Join BitSquad Traders ➡️
Join Me on Twitter ➡️
Join Me on Instagram ➡️
Join Me on TikTok ➡️
Join Me on Minds ➡️
●▬▬▬▬▬▬▬▬▬▬▬▬▬▬▬▬▬▬▬▬▬▬▬▬▬▬▬▬●
ByBit, Market Cipher, Ledger, TokenMetrics, Crypto.com & more!
Find deals on hardware wallets, trading indicators, exchanges & more.
Find Crypto DEALS ➡️
●▬▬▬▬▬▬▬▬▬▬▬▬▬▬▬▬▬▬▬▬▬▬▬▬▬▬▬▬●
All of our videos are strictly personal opinions. Please make sure to do your own research. Never take one person's opinion for financial guidance. There are multiple strategies and not all strategies fit all people. Our videos ARE NOT financial advice.
0:00 Intro
1:38 Namecoin
2:39 Onecoin
3:59 Bitconnect
5:14 Other Dead Coins
5:49 Dog Coins
7:18 Meme Coins
9:08 Life Lessons
#bitcoin #ethereum #crypto #news #nft #economy #money #blockchain #invest #inflation