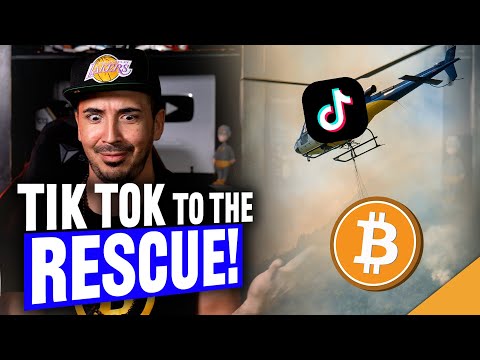 In your nightly crypto news wrap-up, we bring you the top crypto stories. Barry Silbert lawyers up, filing a lawsuit against the SEC for its denial of Grayscale's ETF application; Binance goes viral–announcing a partnership with Tik Tok influencer Khaby Lame; and Bitcoin gets thrown out of its latest haunt at 20K!
What We Discuss:
0:00 Intro
0:22 Grayscale vs. The SEC
1:45 Market Watch with Frankie Candles
2:53 Tiktok Team-Up
3:38 Bitcoin Falls Below $20K
4:35 Closing Thoughts
Subscribe To Frankie Candles ➡️
Learn more about crypto ➡️
How to join Cardano (ADA) BitPool ➡️
➡️ MERCHANDISE:
●▬▬▬▬▬▬▬▬▬▬▬▬▬▬▬▬▬▬▬▬▬▬▬▬▬▬▬▬●
Connect with Me & the BitSquad!
Join the BitSquad ➡️
Join BitSquad Traders ➡️
Join Me on Twitter ➡️
Join Me on Instagram ➡️
Join Me on TikTok ➡️
Join Me on Minds ➡️
●▬▬▬▬▬▬▬▬▬▬▬▬▬▬▬▬▬▬▬▬▬▬▬▬▬▬▬▬●
ByBit, Market Cipher, Ledger, TokenMetrics, Crypto.com & more!
Find deals on hardware wallets, trading indicators, exchanges & more.
Find Crypto DEALS ➡️
●▬▬▬▬▬▬▬▬▬▬▬▬▬▬▬▬▬▬▬▬▬▬▬▬▬▬▬▬●
All of our videos are strictly personal opinions. Please make sure to do your own research. Never take one person's opinion for financial guidance. There are multiple strategies and not all strategies fit all people. Our videos ARE NOT financial advice.
SOURCES:
https://www.cnbc.com/2022/06/30/grayscale-sues-sec-after-rejected-bid-to-turn-bitcoin-fund-into-etf.html
https://www.coindesk.com/policy/2022/06/30/grayscale-sues-sec-over-bitcoin-etf-application-rejection/
https://finbold.com/binance-partners-with-khaby-lame-tiktoks-most-followed-creator-with-140-million-followers/
#crypto #cryptonews #bitcoin #bitcoinnews