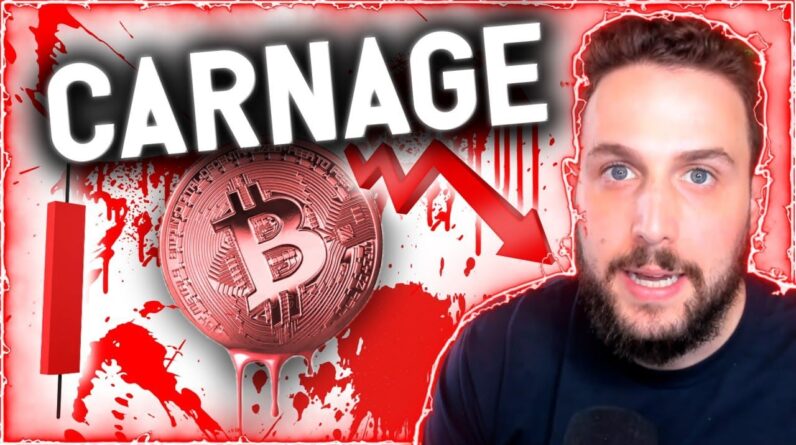 ✅ Follow EllioTrades on Twitter:
✅ Sign Up for the Free Daily Newsletter:
Hey E.T Fam! Happy Monday! I hope you all had a great weekend. Today I'm heading out to NFT NYC, but I'm wanted to check in and leave you all with a follow up on what's happening with the crypto crash. It's no secret that things hit the fan last week with the basis points hike, huge DeFi companies becoming insolvent, and more stablecoins losing their pegs. This past Saturday, BTC hit its all time low of the year with it falling below $19k. Ethereum followed in BTC's footsteps and dropped below $900.
When you zoom out, it's looking like leverage liquidations have had a lot to do with the current crypto crash. However, in the past 24 hours we've been seeing a bit of a bounce or relief rally. ETH is back above $1,100, and BTC is back above $20k. The questions you must ask yourself is how long will this last and does this change the current bear market outlook? My prediction is that we have not yet reached the bottom, and there could be more pain to come.
So, each bounce should be viewed as an opportunity to manage some risk. Tune in as I break everything down for the E.T Fam. Talk to you all soon!
00:00 – Intro
01:12 – Prior peak break
02:50 – What this bear market has taught us so far
04:37 – No convincing rallies
05:19 – A house of cards
06:09 – Big institutions getting liquidated
07:42 – Leverage and bad risk management
09:48 – Leverage is the root of all evil
10:59 – Is the bottom in?
12:19 – What could lead to further downside?
13:59 – "I knew crypto always was a scam"
14:58 – Historic levels
16:37 – Deflation of the housing bubble
17:39 – Economic update
19:01 – A little dose of hopium
20:08 – Leverage cascade
24:27 – Outro
#nft #ethereum #defi #blockchain #crypto #cryptocurrency #bitcoin #btc #eth #news #protocols #sidechain #altcoin #nftmarketplace #opensea #cryptoart #protocol #altcoins #nonfungibletoken #dao #sidechain #layer2 #erc20 #erc-20 #token #coin
DISCLAIMER: This is not financial advice! This is an entertainment and opinion-based show. I am not a financial adviser. Please only invest what you can afford to lose, and we encourage you to do your own research before investing. DYOR